WiFi Speed issues are faced at some point in time by all the organizations which have installed a wireless network. Below are some of the complaints usually received by the IT team.
Slow WiFi connection                      
WiFi speed is  erratic
WiFi signals drop randomly across the office
WiFi interference issues due to signals from other radio and non-radio sources
WiFi user authentication problem
VoIP and Video not working properly on WiFi
Signal dark spots in many areas of the office
The solution for above problems is WiFi Network Optimization!
WiFi Access points used in Wireless LAN (WLAN) are delicate devices that needs to be configured properly and positioned correctly in the office work areas for uninterrupted service. The same settings which worked when the WiFi network had low usage may not work when the WiFi network has become fully occupied and heavily used. Based on our experience, more than 75% of WLANs can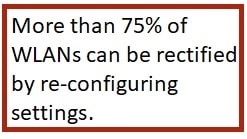 be rectified through settings re-configurations alone. Only few WLANs may require actions like re-orientation of access points, radio interference management, access point additions, hardware integrity checks etc.
In many organizations, WLAN is configured only once during initial installation. When time passes, many things start affecting the WiFi speed: the number of users grow, people start using more number of devices on the WLAN under BYOD plans (Bring Your Own Devices), more number of applications start accessing the WLAN, interference from neighboring office networks increases, workplace architecture gets modified, access points gets displaced from original locations etc. While all these happens, the WiFi configurations usually remain the same as it was initially configured for the original workplace. This is the major cause of WiFi speed and other WLAN issues in many offices as the network cannot adjust itself to the rapidly changing environment.
WiFi Speed Optimization Service
Accolade Wireless, with its vast experience in handling complex WLAN networks with 100's of access points and 10,000+ live users, can help companies to reconfigure and effectively manage their WiFi networks. Our experienced team can quickly assess the WLAN configurations and implement changes to match current usage conditions. We can also prepare the network to manage future workloads.
We can help in cases where WiFi interference becomes unmanageable due to interference from internal and external sources like microwave ovens, heavy machinery, metallic structures/goods, neighboring networks etc. We can conduct professional wireless site survey to assess the extent of radio signal interference and take corrective steps to utilize the available spectrum. We can also help to re-orient the WiFi devices for better WiFi signal coverage.
We are vendor neutral and can work with Access Points from various OEMs like Ruckus Wireless, Aruba Networks, Cisco, Zebra / Extreme Networks, Cambium Networks, Fortinet, Ubiquiti Networks, D-link etc. We can work with both hardware WLAN controllers and Cloud based controllers. We are currently delivering services all over India from 100-user Small Enterprise networks, up to Fortune 500 India companies with 10,000+ active WiFi users.