Wireless LAN (WLAN) is quickly becoming a standard feature of the Enterprise network. In work environments where every second counts, seamless networking of computers is a non-negotiable requirement. Employees move around the office and across the campus for attending to various tasks. Such employees need immediate access to information that is needed to get their work completed quickly and efficiently.
A wired network with physical cables becomes highly restrictive in such cases and a need arises for wireless networking of computing devices.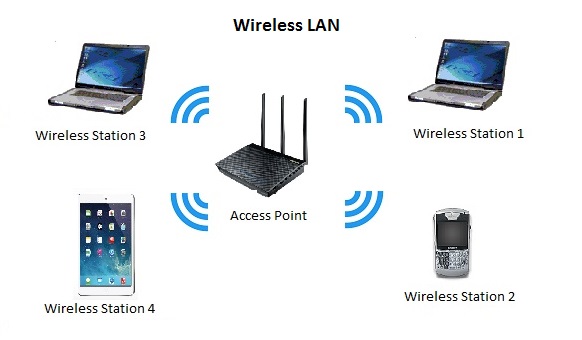 Enterprise WLAN provides robust wireless connectivity solutions to the workforce. When done right, all the employees and their devices can be connected 24×7 to a fully secure, fail-proof and high-performance wireless network.
Advantages of Enterprise WLAN
Anytime, anywhere secure data access
Seamless user addition in complex locations like factories, ports, remote branches etc
Hassle-free network expansion
Ability to support various laptops, tablets, smart phones, speciality devices etc
Ability to support guest user access
Benefits
Improved team collaboration and productivity
Streamlined processes and cost savings
Enhanced company reputation, with happier employees and guests
Accolade Wireless, with its unmatched expertise in Wireless Networking, can ensure stable and reliable data, voice & video delivery. We can help connect various types of wireless stations over a highly secure Wireless network. Through extensive Site-surveys, we can make sure that there are no dark spots in the working environment. Through strategic placement of Access Points (AP), an optimum wireless network is made available to all participating devices. We can commission wireless networks using premise-based hardware controllers or by using Cloud-Wireless solutions. We can also deploy controller-less wireless networks.
Indoor Wireless LAN
Enterprise Class WLANs require Enterprise Class Site-Surveys. Accolade Wireless uses world-class site-survey techniques to finalise the right solution needed for each individual indoor office space. Such techniques make sure that every workstation and device inside the office receives optimum wireless signal without drops in signal strength or quality. Such techniques will ensure that uploads and downloads happen at full available Wi-Fi bandwidth helping applications to work effectively.
Outdoor Wireless LAN
In environments where secure WLAN access is needed outdoors, it is very important to assess the requirements accurately to ensure optimum utilisation of resources and to prevent wastage of valuable hardware and bandwidth. Accolade Wireless uses highly effective site-survey techniques to decide the right quantity and quality of Access Points required to effectively cover outdoor areas like Corporate Campus, College Campus, Manufacturing facilities, Hospitals etc. We can also provide wireless Point-to-Point connectivity between buildings and facilities to avoid costly fiber/leased line options and also to overcome difficult terrains and geographies.
Contact us now for a free site survey report and consultation.